Double Chocolate Protein Cookies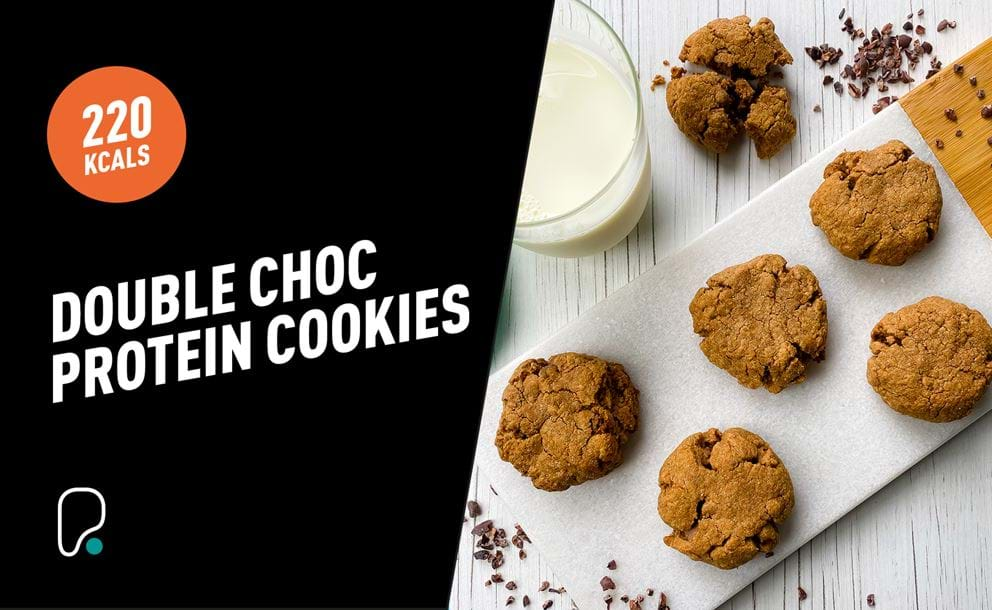 Forget expensive pre-bought protein snacks, our Double Chocolate Protein Cookies are only 25p per cookie to make and pack in 13g protein each!
This means all the satisfaction of chocolate chip cookies, with all the benefits of a high protein snack. These cookies are crispy on the outside, are packed with gooey rich chocolate chunks, and have a soft cookie centre.


It's the perfect sweet treat to curb cravings and help you stay on track.
This chocolate chip cookie recipe is super easy to make and only has 5 ingredients. Each batch makes 12 cookies and they can be kept in an airtight container for an easy snack on the go later in the week!
Ingredients (makes 12 cookies):
250g smooth peanut butter
75g sweetener
1 egg
3 scoops chocolate protein powder
45g white chocolate chips
Method:
Preheat the oven to 180c
Line a baking tray with non-stick parchment
In a mixing bowl add all ingredients and mix until they are evenly combined, add a little water (or milk) if needed to bring the dough together
Divide mixture into 12 even sized balls of cookie dough and pop onto your lined baking tray
Push down slightly on each ball to flatten the cookies, leaving enough room between each cookie for them to expand slightly
Pop the tray of cookies in the oven for 12 – 14 minutes, until they are golden brown
Remove from the oven and leave to cool
Serve warm to enjoy the gooey chocolate or box up in an airtight container for an easy protein snack on the go
Looking for more healthy high protein snack ideas? Why not try our chocolate orange protein flapjacks or our low carb carrot cake protein muffins.