Your Questions Answered: Going to the gym for the first time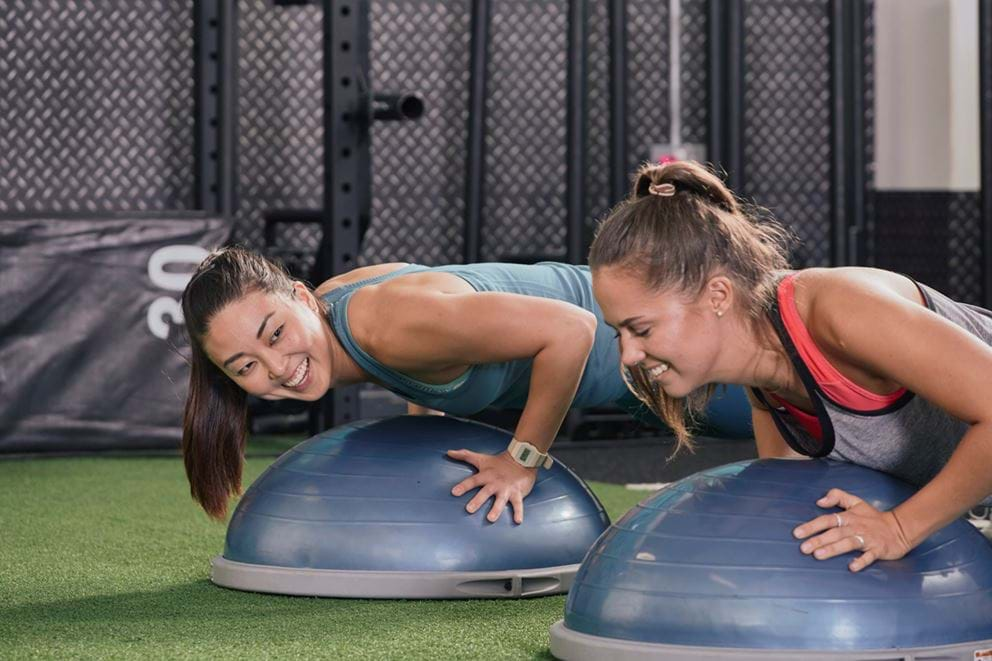 Never been to the gym before? We've answered some of the niggly and worrying questions you might have about the gym. For more specific information on our services and facilities, check out our About Our Gyms, and for a breakdown of how to use our gym kit, watch our video tutorials on how to use gym equipment. 
BEFORE YOUR GYM WORKOUT

What should I eat before a workout?
Make sure you fuel your body so that you have enough energy to work out. Avoid eating anything too heavy that will make you feel sluggish, and make sure you leave enough time for your body to digest it. 
Snacks like a banana, apple and peanut butter, cottage cheese, fruit smoothies or protein-rich sandwich will give you the energy boost you need before a workout.
Use our detailed guide on what to eat before, during and after a workout. 
What to bring to the gym with you?
Use our what to bring to the gym checklist, so you have everything you need when you visit our gyms.
What should I wear to the gym?
Wear comfortable and breathable clothing and trainers which provide enough support. Wear clothes made from cotton, bamboo fibre, poly-dri or fabrics designed to soak up sweat and keep you cool while working out. 
How do I get rid of first time gym nerves?
Don't worry; it's common to feel nervous about starting the gym. There are things you can do to help reduce nerves like:
visit at quiet times
take group classes
train with a friend
create a gym playlist
research before you go
challenge your mindset
Go to our Dealing with Gym Nerves page for more.
What do you do with your stuff when you're working out in the gym?
Lockers are available at all of our gyms, but you will need to bring a padlock. We have lockers of different sizes but please don't leave your things in them overnight. 
If you only have a few things, like your phone or water bottle, you can carry these around with you from machine to machine. Always keep your belongings tidy and make sure no-one will trip or step on them while you're working out.
Padlocks, towels, water bottles and protein bars are available in the in-gym vending machines. 
DURING YOUR GYM WORKOUT

What are the most important gym etiquettes to be aware of?
Please return equipment after use, especially dumbbells. Bring a towel to wipe down machines after you use them. And if the gym is busy, try to avoid using a machine for longer than necessary. 
Is there music at the gym, or can I listen to my own?
We have music playing in the gym but feel free to play your own music with your headphones. 
Research suggests that training to music can help improve performance and well being, so if you prefer to listen to music, create a motivating workout playlist.
What should my first workout be?
What your first workout looks like will depend on your needs, goals and fitness ability. 
A good way to get started is to join one of our fitness classes, as you'll be guided through a workout by an instructor in a supportive group environment.
You can also book into a free induction with a personal trainer using the PureGym app. In the induction, a personal trainer will show you around and tell how you how to use the gym equipment.
AFTER YOUR GYM WORKOUT

Are there showers I can use?
You can use the showers in the changing rooms, but you will need your a towel and toiletries like shower gel. 
Hairdryers, mirrors and plug sockets are also available in the changing rooms. Changing rooms close between midnight and 5 am. Find out more about our changing facilities here. 
What should I eat after my gym workout?
As a rough guideline for most people, a post-workout meal should include a portion of protein and a portion of carbs, e.g. chicken and rice, bean stew, spaghetti bolognese, tuna pasta. For more meal ideas, see our guide to recovery foods post-workout.
How often should I be going to the gym?
There are no hard and fast rules for how long you should spend in the gym. Create a routine that you works for you, one that you can stick to. 
Read our guidelines on how long to spend on different workout types (cardio, HiiT, weight training etc.) here.
Can I use my PureGym membership at any location?
Plus members can use more than one gym. Click here to upgrade to Plus or read our T&Cs.
What are the off peak times to visit PureGym?
We offer off-peak memberships at most of our gyms. Off-peak members can use the gym during limited hours. 
Here's more info on off-peak memberships.
Our research report shows that Sundays are the quietest days in general, and Tuesdays the busiest.
You can check how busy your gym is anytime using the free PureGym app.
HAVE MORE QUESTIONS ABOUT OUR GYMS?
Find answers to FAQs about our facilities and services including parking info, free wi-fi, free inductions, changing facilities, lockers and more here: https://www.puregym.com/help-centre/all-about-our-gyms/