Salted Caramel and Banana Protein Crumpets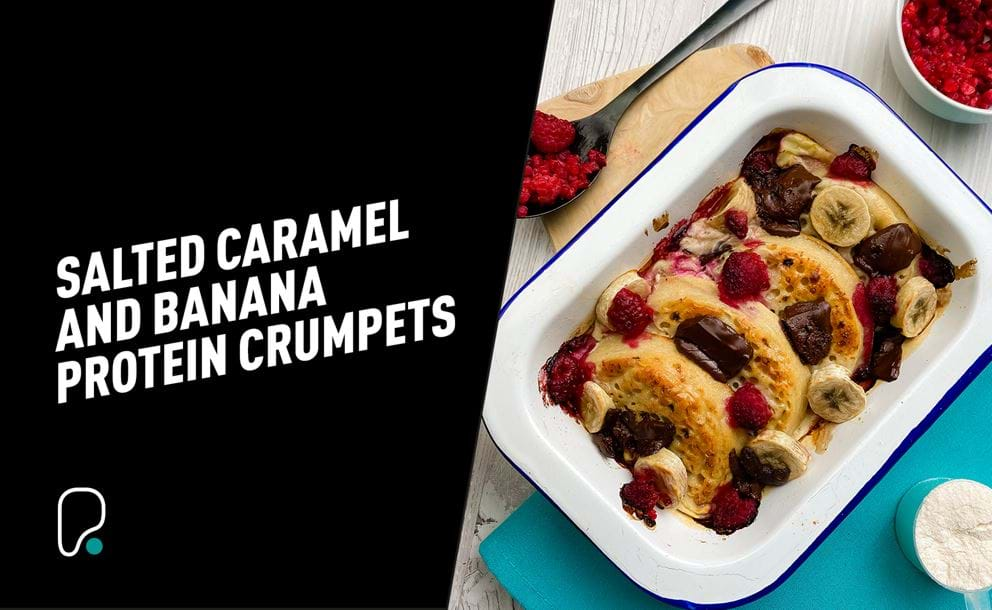 It's easy to get bored of breakfast when you're eating the same thing day in, day out. We wanted to help you switch it up and bring some flavour back to your morning!
Baked crumpets are all the rage at the moment – so we had to give them a try. Get involved and pimp up your crumpets with salted caramel, banana and dark chocolate with this delicious new recipe.

We made sure they're packed with 27g of protein too – so it's a great recipe for weekend brunches or as a tasty post-workout meal!
Ingredients
10g salted caramel protein powder
2 crumpets
1 egg
1 egg white
3 tbsp semi-skimmed milk (or plant alternative)
10g dark chocolate
1 tbsp sugar-free salted caramel syrup
30g sliced banana
30g frozen raspberries
Method
Preheat your oven to 180c
Meanwhile, cut your crumpets in half and stack them in an oven-proof dish or loaf tin
Next, mix your eggs, milk, salted caramel syrup and protein powder until smooth and then pour the mixture over the crumpets
Top with sliced banana, frozen raspberries and dark chocolate
Place your crumpets into the preheated oven for 15 - 18 minutes
Serve, and eat while warm!
For more high protein recipe ideas, check out the recipe section of our blog which is packed full of healthy, nutritious and most importantly tasty meals to help you reach your goals!