Air Fryer Popcorn Chicken with Sriracha Mayo Recipe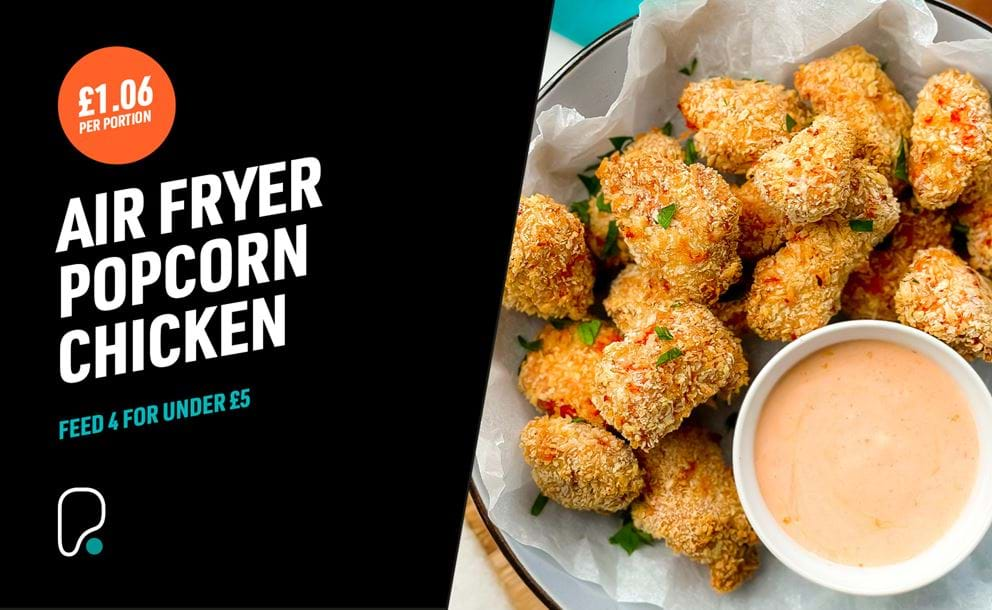 There's no need for a takeaway when our tasty Popcorn Chicken recipe is on the menu. We've created a healthier version of this fast-food classic, with only 270 calories and 1g of saturated fat per portion and packed with 26g of protein.
We use the air fryer to get the perfect crisp on our popcorn chicken, but don't worry, you can also cook it in the oven too. Both versions are much lighter in calories and fat than fast-food versions, as they avoid using extra oil and deep fat fryers.

Forget expensive herbs and spices, we use cupboard staples to season our popcorn chicken: paprika, garlic, salt, and pepper - which create a subtle smoky, garlic flavour that tastes incredible without the fuss.
We also coat our chicken in panko breadcrumbs, a Japanese style breadcrumb, that creates a crunchier and crispier texture than classic breadcrumbs.
You can totally use normal breadcrumbs if that's all you have in the house, but if you like crispy textures, give the panko breadcrumbs a try!

Think crispy coated chunks of popcorn chicken paired with a tangy Sriracha Mayo for some serious dipping action. Are your tastebuds watering yet? Ours sure are!
Making four portions for just under £4.25, we love this recipe for a light lunch, movie night with friends or even as the base of meal prep paired with rice and veggies.
Plus, our popcorn chicken recipe is quick and easy to make, taking only 25 minutes from prep to plate.
Serves: 4
Prep time: 15 mins
Cook time: 10 mins
Ingredients
To make the Popcorn chicken you need:
250g chicken breast, diced
1 tsp paprika
1 tsp garlic granules
70g flour
1 large egg, beaten
70g panko breadcrumbs
Salt
Freshly ground black pepper
Low calorie oil spray
To make the Sriracha Mayo you need:
1 tbsp sriracha sauce
1 tbsp light mayonnaise
2 tbsp 0% fat Greek yoghurt
1 tsp lemon juice
1 garlic clove, crushed
Method:
Start by adding the diced chicken to a bowl and season well with paprika, garlic granules, salt, and pepper. Mix well.
Next, prepare three separate dishes with flour, egg mixture and panko breadcrumbs ready to coat the chicken.
Now, dip each piece of chicken, in the flour then the egg and then the panko breadcrumbs. Repeat this process until all the chicken is coated.
Next, spray the air fryer basket with low-calorie oil spray and lay the chicken pieces in a single layer in the tray, working in batches if you need to.
Turn the air fryer to 200c for 10 minutes, flipping the chicken halfway through.
Whilst the chicken is cooking mix together the ingredients for the sauce.
Once the chicken is crispy and cooked through serve alongside the delicious sriracha mayonnaise.
Top Tip: Not got an air-fryer? Follow the exact same steps but on step 5 put the chicken in a preheated oven at 200c, on a lined baking tray sprayed with low calorie oil spray, for 20-25 minutes flipping halfway through.
If our air fryer popcorn chicken recipe has got you looking for some more air fryer recipes, give our air fryer fish goujons with homemade tartare sauce a try! After some more takeaway inspired recipes? Take a look at our zingy chicken rice box fakeaway and our peri peri chicken burger!