Shakshuka Recipe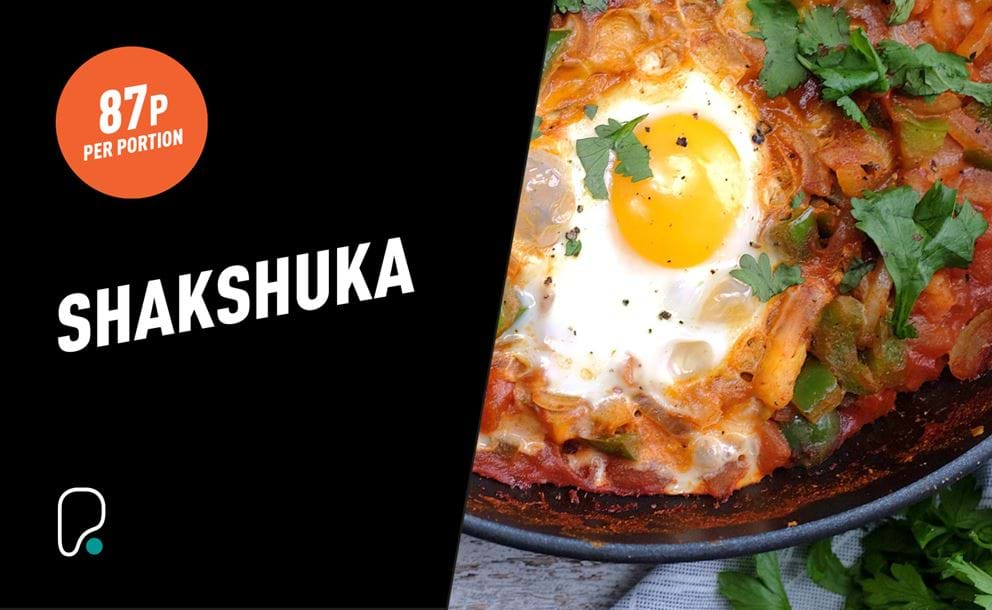 Eating healthy doesn't have to cost a fortune, and we want to show you how. Keep your eyes peeled for more nutritionist approved budget friendly recipes coming weekly to our blog.
Today we've got a classic Shakshuka at only 87p per serving! Shakshuka is not only healthy and nutritious but a cost effective way to reduce your food waste. It's the perfect meal to use all of your vegetable leftovers, or whatever you have lying around in your cupboards. Don't be afraid to add some extra veggies or beans once you've nailed down the basics. Get creative and add your own twist 🍅🍳
Ingredients:
Price Per Portion: 87p
Serves 2
2 wholemeal pitta breads
2 large tomatoes, chopped
200g tomato passata
2 large eggs
1 white onion
1 green bell pepper
2 garlic cloves
1 tsp ground coriander
1 tsp sweet paprika
1/2 tsp ground cumin
½ tsp chilli flakes
5g fresh parsley leaves
5 g chopped fresh coriander leaves
10 sprays low calorie spray
Pepper to taste
Method:
Heat low calorie olive oil spray in a large pan.
Chop the onion, peppers and garlic and add them into the pan.
Add all of the spices, pepper to the vegetables and cook until softened.
Next add the tomatoes (chopped) and passata to the pan - cover and simmer for 15 mins on a medium heat.
Uncover and allow mixture to reduce and thicken.
Using a wooden spoon make 2 wells in the mixture, gently crack an egg into each one.
Reduce the heat and cover the pan. Leave to cook until the egg whites are set.
Once cooked, add parsley and coriander and then serve with a toasted pitta.
For more budget friendly recipes click here.