Happy International Women's Day 2019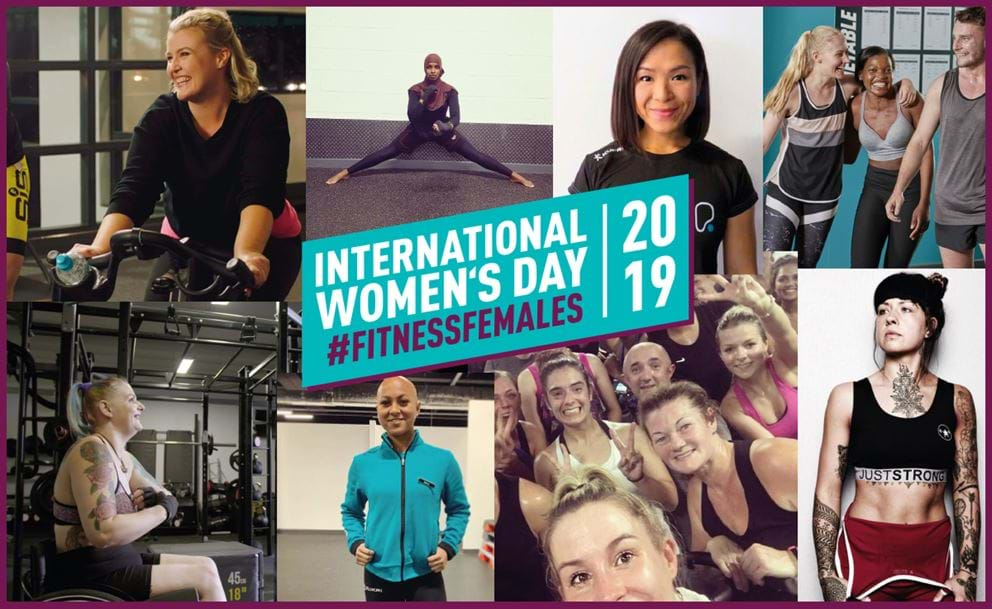 To mark International Women's Day we are celebrating all of the inspirational #fitnessfemales in our PureGym community! Read on to find out about some of our incredible female members and Personal Trainers!

"In March 2014 I woke up one morning feeling paralysed – I couldn't move. I knew it was time to make changes and work on improving my health. During this point in my life, I was at my largest, sitting at 260lbs and a size 26 at only 5'3. I was having, on average, 4000 calories a day.  At first my main focus wasn't on losing weight but about moving my body more. As I started going to the gym more often, the more it grew on me, and exercising became a hobby. I took baby steps each day, so I could work towards getting healthy and better, and improving my level of fitness. I set myself the goal to lose half my body weight in 2 years (140lbs) which I did by 2016. My whole life has changed since getting into shape. My mood is better, and I have a much more positive outlook on life. I am even squatting 100kgs!"

"I'm 61 years old and I've been a member at PureGym since November 2014. I had no idea that when I first joined the gym, 2 years later I would hold World Powerlifting records for my age and weight with the Global Powerlifting Committee (GPC)! How did that happen? Prior to 2014 I hadn't set foot in a gym for many years and I had never attempted to lift more than my shopping! [My Personal Trainer,] Mike set up a team of women who train together once a week doing powerlifting, we have trained together for about a year now. We help each other, praise each other and keep the fun element to the class which is important! It has to be enjoyable as well as tough and being part of a team helps with that.
I competed in my first powerlifting competition at the GPC Nodumbelles women only powerlfiting competition in July 2016, about 4 months after starting my training with Mike. My total lift weight from that competition was 177.5kg. Mike and I realised that I had qualified to enter the British GPC championships which were to be held in November 2016 (qualifying total required was 175kg) for my age and weight group! In just less than a year from my first competition, I competed in my 4th event in June this year in Poland. I achieved European and World records for all my lifts and total with a final total of 212.5kg."

"My anxiety had come to a point where it was affecting both my personal and professional life. My mental health was not in a great place but I was also physically weak so I knew I had to do something about it. Signing up to the gym was the best thing I did for myself to help reduce my anxiety and get stronger, both physically and mentally.
When I first started working out I only did cardio. I didn't really know what else to do in the gym and I didn't have the confidence to train with weights. It wasn't until I met Che Jobity and Anne Desormeaux, who are both personal trainers at Finsbury, that I started weight training. They helped me work on my strength, and that's when I started to see a massive change in my physical and mental health. At first, going to the gym seemed like a real effort but after a while it became something I couldn't imagine skipping. I now love working out and I love the feeling after a good workout so I make it a priority. I have my good days and bad days but no matter what, I always make the effort to go.
There's a common misconception that if women train with weights they will get bulky but that is not the case. Lifting weights has really helped to tone my body. Lifting weights has improved my body composition and has also increased my self-confidence. I think that's the most important thing - to have fun and enjoy your workout!"

"I'm Angel and I've been in a wheel chair for nearly 8 years and put on a couple of dress sizes as a result. I started at PureGym because I wanted to lose weight. I have been training with a PT (David) for just over year now and after a few months I found that I was more capable than I first thought. I can now take all the weight on my arms and it feels as though I am standing. This made me remember how tall I actually was. Together me and David have achieved more than I thought was possible. Training has changed my life both physically and mentally."

"A year ago I weighed about 50kg (7 stones), and now I weigh 65kg (10 stones). Whilst weight gain may not be everyone's goal, I am proud of this achievement and so much more confident with how my body looks now. Most of the weight I have gained is muscle mass and not fat mass. I am much stronger now and this has given me a boost in confidence. I remember whenever I used to say I wanted to start going to the gym people would say you don't need to go to the gym because you already skinny. But it came a time when I stopped listening to what people thought and focused on what I wanted.
Balancing university with placement and part-time work can mean my days get quite busy but I always find a reason to go to the gym, even if it means going for a quick session. I find that my transformation motivates me all the time. I have learnt that sometimes you are your own motivator, don't wait for approval from other people to stay motivated. Seeing the changes in my body composition makes me want to work even harder and I hope to one day inspire others too. Fitness is about being patient and consistency. Transformation does not happen overnight it takes time but trust me, it's worth it!"

What is the reason you became a PT and what do you most love about it?
"The reason I have become a personal trainer is that, growing up I have always been involved in fitness, playing numerous sports, such as Taekwondo, basketball, netball and volleyball. The thing I love the most about being a PT is that I get to help others with their health and fitness goals, supporting their mental and physical health which is an immense passion of mine."
What is your biggest fitness achievement or favourite exercise?
"Favourite exercise is hip thruster and my biggest achievement is winning the Australian Taekwondo national championships!"
What motivates you to stay active?
"There's lots of reasons - the feeling I get after workout, seeing the results in myself, being a role model for others who look up to me as a motivator and inspiration, and knowing the benefits of being active."
What advice would you give to someone at the start of their own fitness journey?  
"To have faith in yourself; know that anything is impossible until you make it possible, and to remember that when working on a healthier physical outcome you will also work on a healthier mental outcome. Most importantly remember that fitness is a lifestyle."
Instagram : @fadima_aden

What is the reason you became a PT and what do you most love about it?
"I became a PT because I spent most of my university degree in the gym. I found this profound love for exercising, I competed in half marathons and without exercise I genuinely don't think I'd be here today. Mental health is a huge part of today's society and for me coping with grief and maintaining a normal life was encouraged by my exercise regimen. So, I became a PT to be that person who can make someone happier on a bad day with a new PB, help someone out who's struggling with grief with an insane HIIT workout to keep their mind off their problems and most of all teach people how to become physically strong in so many ways. I love how it empowers me as a women and how I help people become the best they can be."
What is your biggest fitness achievement or favourite exercise?
"My biggest fitness achievement is taking part in the AWPC world championships last year and coming 2nd place in my weight category. My favourite exercise is deadlifts and it's also my strongest lift!"
What motivates you to stay active?
"My mum died when I was 20 from alcohol abuse so it's really important to me to stay fit and healthy and look after myself. It's so important to regularly exercise and eat well so you can have a long and happy life."
What advice would you give to someone at the start of their own fitness journey? 
"The starting is always the hardest part of the process and the bit where you want to give up - like the first kilometre of a half marathon or the first paragraph of a 3 hour essay. But as with everything, as you progress and keep on at your goal, you will slowly but surely feel more and more confident. Your results will come without you even realising and you won't even care anymore as you actually enjoy the process! So don't give up, it's worth it in the end."
Instagram : @findyourhabit

What is the reason you became a PT and what do you most love about it?
"I spent most of my childhood and into my 20s out of shape, unfit and I hated everything about the gym and exercise. But what I hated even more, was what stared back at me in the mirror. 
Enough was enough and I knew something had to change. I became a PureGym member, hired a personal trainer and my life changed. 
I fell in love with training and nutrition, and my own personal journey inspired me so much that I wanted to coach others who were in the same position as me: hated exercise, felt clueless and inferior inside the gym, confused about nutrition - that the impossible is possible. 
And that's what I love most about being a personal trainer; being part of a client's journey of achieving a goal or doing something they didn't think was possible, and them realising their potential. That build up of confidence is amazing and it makes me proud to know that I've positively influenced someone's life."
What is your biggest fitness achievement or favourite exercise?
"I don't really have any big fitness achievements because I'm always training to improve my performance and skills. I think this is mainly because I do CrossFit and it covers such varied movements from Olympic Lifting to Gymnastics, that there's always things to be working on! At the moment, I'm really enjoying Handstand Push Ups!"
What motivates you to stay active?
"Losing my dad to liver cancer is my biggest motivator. Although his death wasn't directly linked to exercise, I did a lot of research about cancer and found that regular exercise can help prevent and treat cancer. So whenever I feel like giving up on the final rep or the final round, I think of my dad and how proud he'd be of me (and how annoyed he'd be if I gave up!)
My mum is another motivator. She's now in her early 70s and is fit as a fiddle, but I too want to be fit and healthy so that I can take care of her when she get older."
What advice would you give to someone at the start of their own fitness journey?
Don't be afraid to ask for help.
Remember that everyone was a beginner - even an expert was a beginner once.
Start with small, realistic goals. Once you've conquered those, build on those goals one step at a time.
Invest in your health. It's a small price to pay as it'll pay dividends in the end.
Progress looks different on everyone: thou shall not compare themselves to a stranger on Instagram!
Be patient. It's a slow process, but quitting won't speed it up. Good things take time!
Instagram : @waiyip_pt

What is the reason you became a PT and what do you most love about it?
"The reason I became a PT is because I didn't have any clue about healthy eating or working out when I was on my own fitness journey. Exercise has always been a way for me to express my emotions and every time I felt down, working out always helped. It took me 2 years to figure out a routine that worked for me. It's so easy to believe in all the myths floating about and get confused about what to do and not to do. I want to lead people in the right direction with the right knowledge to improve their mental and physical health, but most importantly to enjoy exercise!"
What is your biggest fitness achievement or favourite exercise?
"My biggest achievement was hitting my 100kg deadlift last November which I never thought would happen! It is now one of my favourite exercises."
What motivates you to stay active?
"There are many reasons why I stay active. For example keeping in shape and feeling confident in my own skin, a healthy heart, but the biggest one for me is mental. It's a way for me to manage my emotions."
What advice would you give to someone at the start of their own fitness journey? 
"Keep going! Prepare yourself to go backwards every now and then because it will happen. Everybody starts at square 1 so begin with the basics. You must always think about how you're going to feel after you accomplish your goal, but also think about why you started the journey because every journey is unique!"
Instagram : @salma_rouf.pt
WHAT'S YOUR STORY?
A million members. A million reasons to train. What's yours? Share us your story by tagging @puregymofficial and you can be in the chance to win some amazing prizes and be featured on our social gallery.