Q&A with Andy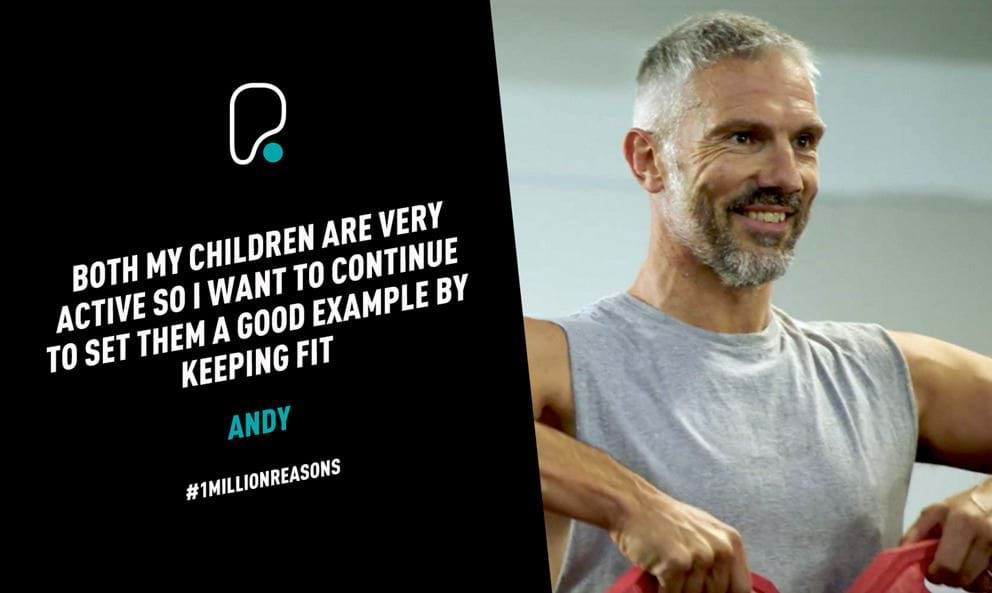 At PureGym, we really take pride in our members and the things they achieve in the gym. Whether it's stepping into the gym for the first time, running marathons, taking steps to live a healthier lifestyle, everyone and every body comes together in our gyms to achieve their goals.
We asked Andy, a regular PureGym goer to find out what keeps him motivated to go to the gym and his fitness routine. 
Where did your fitness journey begin and how have you learnt?
I've always been sporty, playing in various teams (eg football, rugby, cricket) throughout school. I started playing rugby league for a local club when I was 12 and went on to play at National Conference standard. I joined a gym when I decided I no longer could play at the level I was playing and to keep my fitness. I have learnt how to train get the best out of my body by speaking to and training with other people and I'm always keen on trying new and different things within my training. Since the explosion of social media, I have also used that to get new ideas. I do choose carefully who I follow as I have a view that not everyone who purports to be an expert actually is.
Top Tip: Learn through talking and training with others more experienced than you
What does your training regime look like?
I always ensure I get a good mix of training in each week and try and do something every day where possible. Sometimes though family life and work commitments don't allow this. I probably do more weights sessions than anything else but I also try and do at least one class per week, some steady state cardio and I also enjoy getting out on the road on my bike. More recently, as I get older, I've started spending a little more time working on my mobility and flexibility.
How important do you think nutrition is and do you follow a strict diet?
Nutrition is massively important if you want to achieve particular results, such as weight loss or weight gain. Whilst I do watch what I eat to an extent and understand what I should and shouldn't be eating I don't follow a strict diet. I don't track my macros. I do however use the BodyTrack scales in the gym once a month to keep a check on things.
Top Tip: Base your nutrition around your goals
Have you ever had a PT?
No but I would definitely consider it in future if I wanted to train for a specific goal.
Which classes do you enjoy and why?
I'll give pretty much any class a go but at the moment I've been enjoying going to classes like Circuits, Bootcamp and Burn It. I like these type of classes as they tend to be a good mix of cardio, bodyweight and resistance exercises and offer a good, all over body, workout in a short timeframe.
Top Tip: Classes are fun and they are a good way to mix up your sessions
If you could go back in time, would you change anything about your approach to health and fitness?
I went through a stage where training dominated my time more than it probably should have and this impacted other aspects of my life. I completely understand and respect people who want to dedicate themselves to train for a particular goal, whether it be some sort of bodybuilding show, a marathon, a triathlon, etc and the amount of time and commitment this involves. I was basically just training for general fitness and enjoyment though at the cost of missing out on other things. I think there is a distinction to be drawn between gym goers  and competitive "athletes" and you should always remember why you train. Oh and another thing I would change if I could go back in time is to spend much more time focussing on mobility and movement.
How do you find time to workout and still have a social life?
Careful planning and making good use of the fact that the Pure Gym I go to is open 24/7! The one I go to is no more than a couple of hundred yards away from where I work so it's massively handy for getting a good session in before work whilst it's also great for shorter sessions on a lunchtime, eg some cardio or a class. My approach is basically that if I get my exercise fix at times that I wouldn't really be doing anything else then my time is free for other things when I want to do them.
Top Tip: Workout when you wouldn't be doing anything else to allow time for the thing you love
What motivates you to train?
To maintain a reasonable physique and level of fitness as the years continue to tick by! Both my children are very active, which makes me happy, and I want to continue to set them a good example in this regard...whilst being able to keep up with them as they get bigger, faster and stronger!
And finally, what do you like about PureGym?
I think PureGym is excellent value for money and offers a good range of kit. I like how there's the option to upgrade to get multi access and how they're open 24//7. Being a relatively young company, I like the fact they seem to be looking to learn, adapt and evolve for the benefit of members.
What's your reason?
A million members. A million reasons to train. What's yours? Tell us why you train and hashtag #1MillionReasons and you can be in the chance to win some amazing prizes and be featured on our social gallery.
Want to be featured on our Instagram stories? Mention us by tagging @puregymofficial and share us your workout tips. Then keep your eyes peeled to see if we feature you!