Becca's Member Story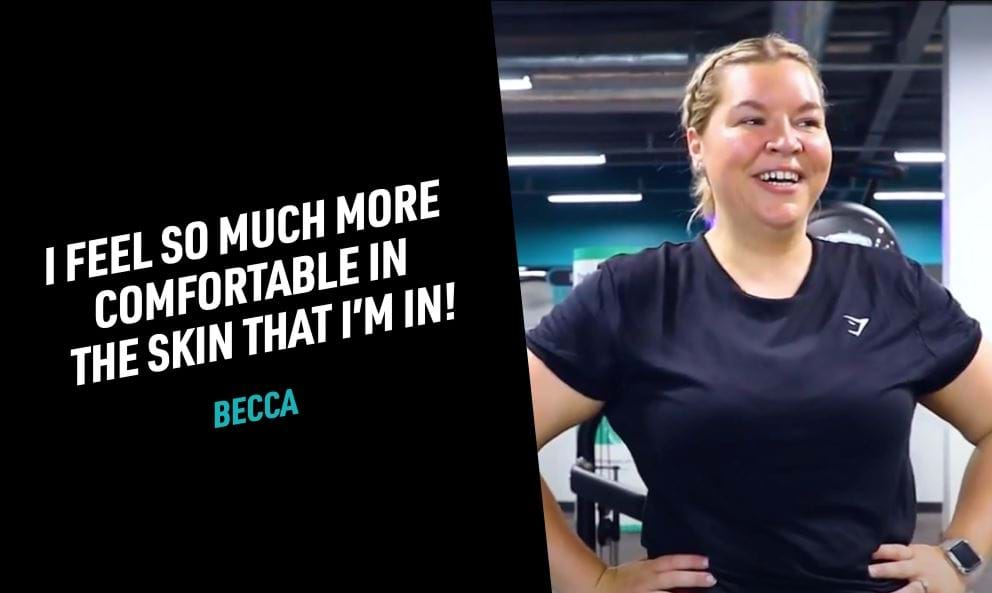 This week's member story follows Becca, who is a member at PureGym Leeds Thorpe Park. Since beginning her journey in 2019, Becca has noticed an incredible difference in her confidence and mental wellbeing. The mental health benefits of exercise are huge! You can learn more on why exercise is so good for our mental wellbeing here. 
Hi, my names Becca. I'm 30 next year and I'm challenging myself to be in the best shape of my life!
When I was about 19 I did try to go to the gym, but it never stuck. I met my now husband and got comfortable and content. I said I wanted to lose weight for our wedding back in 2016 but ended up gaining weight. It was the biggest I'd ever been - a size 20 - and I felt really uncomfortable. For a couple of years after I just kept looking back at my wedding photos and hated seeing that person.
If you'd have asked me to go to the gym back then, I'd have said "nope thanks, I'll be in the pub".
But I decided I wanted to make a change. In December 2018 I decided that my new year's resolution was to join the gym and become the best version of myself. I wanted to kickstart my journey and become that much more confident and comfortable young woman that I once was.

January 2019, I joined PureGym Thorpe Park and have never looked back.
When I first joined the gym, I was a little scared at first. I was self-conscious and worried I would do something wrong. But I joined in with some of the classes – pump, combat and cycle were my favourites - which helped build my confidence. After about 6 months I started lifting some weights and then decided to get myself a PT, Matthew Ramsden.
Having Matthew as my personal trainer really helps to put me through my paces and keep me motivated, but our dynamic is great, we have such a laugh and a giggle too.
When March 2020 hit, and the pandemic and lockdown shut down the gym, I really struggled. I am very big on routine and like to have set gym days to keep me motivated. It had a massive impact on me not just physically but mentally too. Home workouts just weren't for me.

I feel like the last two years have been the best experience for me. The gym for me is not just about physical activity, it's very much about looking after my mental wellbeing. I struggle at times with my anxiety, and I have found the gym is like a release.
I'm so proud of how far I've come, and I've achieved things that I never thought would be possible when I started on my fitness journey. A huge accomplishment for me was climbing Scafell Pike, England's highest mountain earlier this month.
The journey really is never ending in my eyes, but I feel so much more comfortable in the skin that I'm in!
If I could tell anybody that you've got this, you can do it - then trust in yourself because that is where it all begins.

Looking to improve your confidence and mental health like Becca? We shared six of the best exercises for mental health in an earlier blog, why not try your hand at one this week and see if it's something you enjoy?