'I've gone from being an overweight snacker weighing in at 20 stone to a fit and healthy, soon-to-be qualified PT.' - Chloe Brooks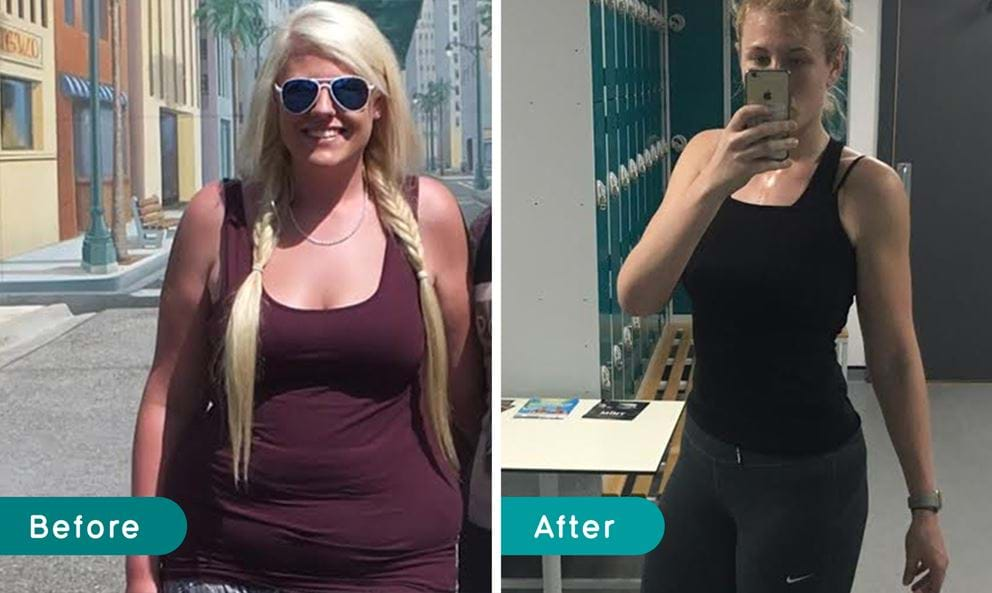 After years of trying different fad diets, Chloe joined the gym and committed to going to two classes a week. She's since lost 7 stone and is training as a Personal Trainer, having found her passion in fitness. Read her story here. 
Weighing in at about 20 stone at my heaviest, I knew my unhealthy lifestyle would have a short ending if I kept living the way I was. I would get out of breath walking and my diet wasn't great so I knew it was time to make a change and to prioritise my health.
When I heard a PureGym was opening near my home in Bournemouth, it was the perfect incentive to turn my health around and get into shape. Having failed in the past trying all sorts of fad diets and diet supplements in order to lose weight, I knew I had to take a different approach this time to see results.  
Whilst I had all the motivation and determination at the start, my efforts never came to fruition. But since joining PureGym, I've lost 7 stone and now love exercising.
Fitness is now a part of my lifestyle - I've even decided to change career path and become a personal trainer! I hope by sharing my story, you can pick up some tips and know that you can achieve your goals, just as I have done, and more.

The first steps…
When I first started going to PureGym, I didn't want to push myself too hard too quickly.
I wanted to ease my way in so I just committed to going to 2 exercise classes a week.
The great thing is that fitness classes come free with membership and they're taught by experienced PTs which makes it perfect for gym newbies. My favourite class to go to is Pure Cycle in the morning. To this day, I still go to the morning classes as it sets my day up perfectly and makes me feel good for the rest of the day.
Changing my diet
I knew this time that relying on diet supplements wasn't going to help me lose weight. I had to make changes to my diet to see results.
I started off by logging in a food diary to help me become more aware of how much food I was consuming.
I worked out my daily energy expenditure and made sure I was in a slight calorie deficit so that I could lose weight slowly and for long term. I then moved on to replacing foods that I was already eating with ones that were similar but more nutritionally dense. Sounds simple to me now but it was revolutionary at the time.

Seeing results
I started losing 2lbs a week and gained a lot of confidence in a short amount of time. I was so happy to see this approach was working for me!
With my diet in check, I wanted to make sure I didn't lose sight of progress so I kept going to exercise classes.
At first they were very challenging for me to start off with so don't be put off if you struggle in your first class. I had to take breaks during the class but as I kept going to more classes, I got better and better, and eventually, I could do a whole class without stopping.

Upping the progress
Once I got comfortable with the classes, I wanted to continue my progress and broaden my training routine. The old me would have just stuck to the cardio machines but in order to achieve fat loss, I knew I had to supplement my workout routine with weight training to help improve my muscle tone and to get to where I wanted to be. I started with light weights, and as I got stronger, I increased the weights I was lifting so that I could continue to make progress.
Since weight training, I've seen a real change in my body.
I love dumbbells rows, and have seen lots of definition in my back recently. 


Doing things outside the gym
Since going to PureGym and finding a love for exercise, I am not only staying active in the gym but also outside the gym.
I am now signing up to Tough Mudders, 5ks, 10ks and planning to run a half marathon race.
I have also started a PT course through PT Academy. I've completed my level 2 gym instructor qualification and soon I'll be a qualified PT! I want to be able to help anyone who is stuck with their weight loss and needs the guidance to achieve their goals as I know how hard it can be, having been there myself! I can't wait to work as a PT and see smiles on people's faces when they have made that positive change in their lives, like I did with mine.

My top tips to lose weight
It's all about diet. If you're working out but not eating right you are not going to see any progress.
Don't just stick to cardio. Weight lifting is great to incorporate into your routine and can help to tone your muscles and lose fat.
Try some HIIT (high intensity interval training). It's a great way to shed fat and get some cardio in whilst toning your muscles.
Get meal prepping! I make all my lunches for the next week every Sunday. That way, I've got healthy and nutritious meals at hand to fuel myself with.

A typical day of what I eat: 
Breakfast: Protein Shake, 50gs Oats with almond milk, a banana
Lunch: Chicken Breast, vegetables and rice
Snack: 3 hard-boiled eggs
Dinner: Some sort of meat, vegetables and rice 
I hope you enjoyed reading my journey! You can find me on Instagram to see more of my new healthy lifestyle and what I get up to in the gym at @chloesfitnesstraining.