Karafa's Story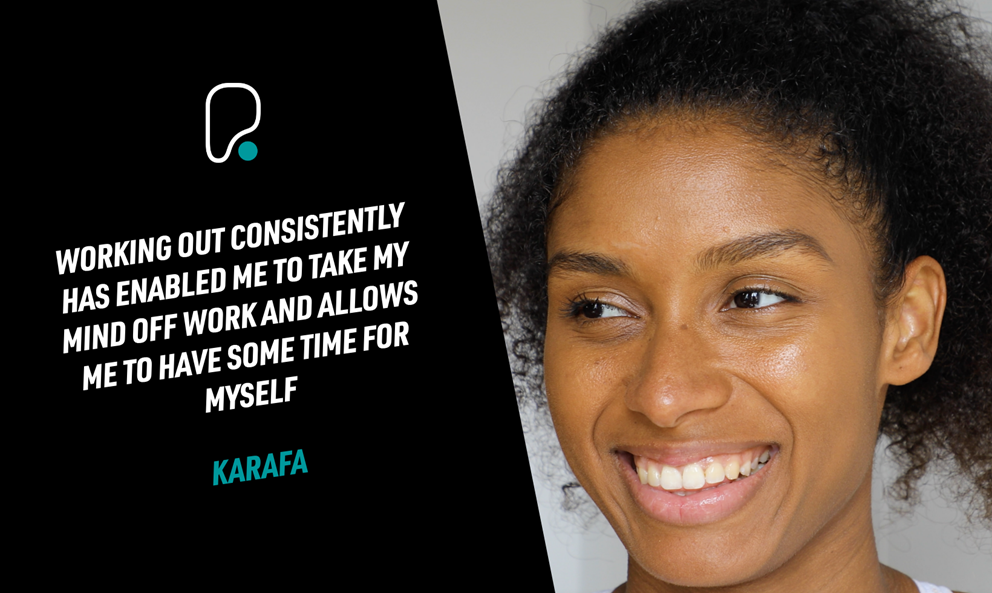 Being a nurse means Karafa has to plan her workouts around her shifts, while making sure she gets enough rest. Find out how she fits the gym into her weeks and why she prioritises keeping active. 
Hi! I'm Karafa, and I'm a 23-year-old nurse who loves going to the gym!   
After following my dream of studying at university to become a children's nurse and moving to London, I felt I needed another focus outside of my career. I decided to set my sights on going to the gym while also setting up my own fitness Instagram page to track my progress.  

Working out consistently has enabled me to take my mind off work and allows me to have some time for myself.

Working night shifts as a nurse means that I must be really organised with my training schedule.
On Sundays, I use a planner to schedule my workouts around my shifts, so I know exactly what I'm doing for the week ahead. It helps me to stay on track and in control, which prevents me from feeling overwhelmed.  
I head to the gym during the day because of my night shifts, but I must consider my sleep and rest days to ensure I'm not overdoing it. I can come to the gym any time of day and I don't need anybody to do it with me. When I'm in the gym, I can destress and zone out which has supported my mental wellbeing and generally makes me feel happier! 
The gym has helped me in so many ways. I consider my nutrition and my general lifestyle which helps me to eat healthier and stay active outside of the gym by walking to achieve my daily step count. There are so many health benefits which have encouraged my passion and love for fitness, as well as the community spirit that I feel on the gym floor and on Instagram. The gym is a friendly place, nobody is judging what you're doing, but everyone is open to helping and supporting each other.  
Like everyone, sometimes I don't feel motivated to go to the gym, but you have to be disciplined to get it done.
It's the same as going to work, sometimes I don't feel motivated, but I know that I have to push through the mental boundaries and go – it's the same with getting my training in! If I'm having a busy time with work, I do try and take it easy, but I find my stress levels increase if I haven't worked out in a week or two.  
It's been great to feel my self-belief grow, from learning correct exercise form to feeling confident wearing crop tops and shorts. I've seen myself progress within fitness while also noticing my body confidence develop. 
Since starting my fitness instagram page, I've had lots of people reaching out to me and asking questions. It's brought lots of different people together but all of them share the same passion and interest for the gym and fitness. 

What advice would you give to someone who wants to start their fitness journey?
If anybody was looking to start their gym journey, my advice would be to find something that you enjoy and follow a structured plan. Arrange to go to the gym with someone who knows what they're doing, book a gym induction or talk to a personal trainer to learn how to use the machines.  
Following a structured plan is something that I wish I'd done sooner so try to make a plan and stick to it as best you can. We've all started out somewhere, and that's a really key thing to remember!  
If you're ready to get started, find your nearest PureGym here. Not sure where to begin? Download our award-winning app for workouts and advice, or all of our gyms have friendly teams of Personal Trainers on hand to help.