"PureGym - A Life Changer!" - Kimberley
Hi, I'm Kimberley and I am 25 years old. I originally went to the gym so I could lose body fat, now I go to get stronger and leaner. The strength is not just physical, PureGym has improved my confidence and mental strength and given me the courage to step into my new job.

Kimberley
I originally chose to join a gym to build a healthier lifestyle for myself, after experiencing a few health scares within my immediate family.  This was one of the major driving forces to joining the gym, as well as wanting to better myself.  I was very low in confidence and didn't think very highly of myself, so joining the gym was an opportunity for me to change all of this. I am a member of the Walsall gym and have been there for approximately 5 years now.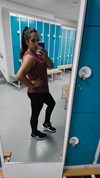 The biggest obstacle was getting back into healthy habits and building my strength back up in the gym following a major operation.  With the support of my PT and the inspiration PureGym gives me, I slowly worked my way back up and am finally back to achieving more goals.
Having a PT also helped me overcome my fear of using the free weights area. I slowly built up my confidence with using the free weights.  I also started partaking in classes and speaking with other members of the gym and soon realised that my perceptions of other members was wrong.  Everyone in the gym had started out as a novice at some point and the other members and staff are all there to support each other. There is no reason to worry about using the free weight area, PureGym makes everyone feel welcome.
Before joining the gym my lifestyle would involve going to work and coming straight home to sit in front of the television, devouring every sweet treat imaginable because I thought it would comfort me. Now I'm up early I'm in the gym to waking my body up for a successful day.
Working out definitely helps me have a routine. As I do shift work, it can sometimes be difficult to feel like I have a schedule.  Waking up at the same time every day and getting that gym workout in regardless of what time I am working helps give me the routine I need.  It means I have a much better sleeping pattern, because I am no longer waking up whenever I feel like it.
When I am in the gym I do a mixture of workouts, mostly focusing on weight lifting and some cardio based activities, linked in with circuit work.  I regularly partake in classes, and enjoy the fat burn, tone and spin classes in particular.  I have also had the support of Kamil Szyluk, one of the amazing PTs at Walsall over the last 3 years. Without their support I would not push myself as hard as I do, and it helps me to consistently stay on target.
Going forward my plan is to get leaner, stronger and improve my endurance.The gym has helped massively with increasing my confidence.  It has given me the confidence to try new things and to socialise more without the fear of worrying about how I feel in my clothes. To keep my motivation I will continue to train with my PT and try out new classes to keep testing my body with new workouts.  I also plan to visit different PureGyms within my area because I believe a change of environment can really help to keep the mind engaged.

What's the reason you train?
A million members. A million reasons to train. What's yours? Tell us why you train and hashtag #1Million reasons and you can be in the chance to win some amazing prizes and be featured on our social gallery.
Want to be featured on our Instagram stories? Mention us by tagging @puregymofficial and share us your workout tips. Then keep your eyes peeled to see if we feature you!