"I now have a much healthier and positive relationship with food and better self-esteem"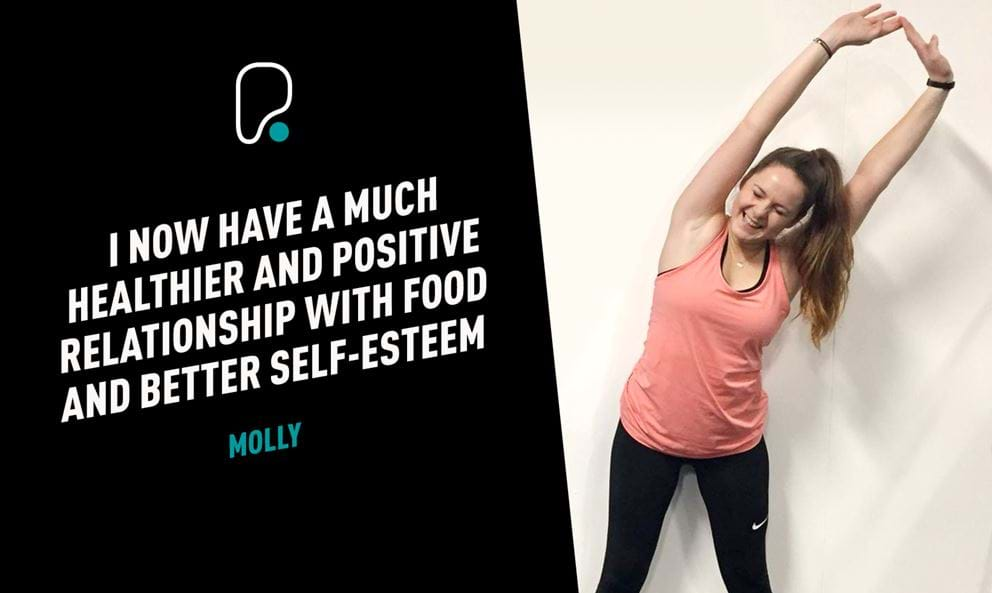 Hi. I'm Molly. I go to the PureGym's at Leeds City Centre North and Newport. I'm in my final year at university studying Maths at University of Leeds. I like to ski and play Polo but I wouldn't call myself sporty.
Whilst I'd been to fitness camps in the past where I got results quickly and lost weight, the approach just wasn't sustainable and led me to adopt unhealthy habits such as working out 3 times a day and eating very little. They also left me feeling miserable and drained.
It wasn't until I joined PureGym in the last year that I've started to adopt a healthy and balanced lifestyle.

When I first joined the gym, I didn't know how to train or eat well. With my previous history of having an unhealthy relationship with food and exercise, I was keen to develop my knowledge in both areas so that I know how to look after my health and work towards my fitness goals. When I found out that PureGym offers a 6-week course (Pure Lifestyle) where you can learn how to lead a healthy lifestyle though proper training and nutrition, I thought this was the perfect for me so I signed up to it.
Before university, I had a really bad relationship with food.
I struggled to eat in front of people, even my family. I would wait for them to leave the house or go to bed before I ate which made me feel awful. Because I was hungry from starving myself of food I'd easily get irritable, and my mental health suffered. Whilst my relationship with food did get better at university, I wasn't eating particularly healthy. Although I wasn't a party animal, on days I'd go out, I would drink too much and be caught up in a vicious cycle of wanting to eat unhealthily and not exercise the next day. I also wasn't feeling particularly confident in myself with how I looked and I wanted to change this, so joining the gym was the best thing I could do for myself to get more physically and mentally better.
Since starting Pure Lifestyle, I have a much healthier and positive relationship with food and better self-esteem.
I feel like my life has completely changed. I eat to fuel my body and keep active regularly. I know what to eat to fuel my body with the nutrients I need. I also don't beat myself up if I have something that doesn't have the best nutritional value. The Pure Lifestyle course has also helped me to know how to structure my workout so I know what exercises to do, how many reps and sets to do to reach my goals. I currently go to the gym 6 days a week. I give myself a rest day to allow my body to recover, but I sometimes train twice a day depending on my university work load.

The book and handouts I got every week at Pure Lifestyle every were massively helpful because it meant that at the end of the day, I could sit and read it in a quiet place and learn things, rather than sit on my phone looking and comparing myself to transformation pictures on Instagram. I am a vegan so the recipes they provide aren't the best for me unfortunately. I have managed to adapt some of the food, but there isn't much mention of vegan protein.
I have a more positive attitude towards everything since completing the course.
In 6 weeks, my body fat percentage dropped 7% which was extremely motivating for myself. I have noticed improved strength and more willingness to push myself to try new things, lift heavier or wear the t-shirt that shows my arms. I can see baby biceps coming, slowly but surely!
My social life has also improved since taking the course. I went through a phase of avoiding seeing friends if it involved going out for dinner or drinking alcohol (which most of university events consist of) in the fear that it would ruin my progress but now I've found balance.

The course also introduced me to Chris Wilde, a personal trainer at PureGym Leeds City Centre North who also teaches the course. I hired him as my personal trainer as soon as the course started. He has been a great motivator but more importantly a great friend to me throughout the past few months of training. He also pushes me, but also knows  when I am struggling and is always there to pick me up if I feel a bit down.
Here are the top 3 things I took away from Pure Lifestyle
You won't see change overnight - it will take time. By adopting small good habits in the long run will allow you to maintain a healthy lifestyle much more easily, and when you do reach your goals, all the hard work will be worth it.
Everyone is fighting their own battle – whether it's trying to gain weight/lose weight, get abs, trim their thighs. You're not alone.
No one is perfect but it is about being the happiest you can be.
My top 3 tips for someone trying to lose weight would be to:
Have a positive attitude – it's key to a weight loss journey. Enjoy watching your body change shape and enjoy the day after leg day when your muscles feel sore so you feel like you can't walk normally - just enjoy the whole journey!

 

And if you want the cake, that's okay – eat it, and enjoy it! Eating junk food in moderation is fine. It's all about finding balance.
Be patient - It is not an overnight fix. It will take time to reach your goals so enjoy the journey. The effect it has had on my mind and perception of myself is the most amazing thing!
Lastly, don't compare yourself to anybody else - whether it's a close friend who has recently lost a lot of weight, or people on Instagram with amazing bodies. This is the hardest thing to avoid, but you have no idea how they feel about themselves or how hard they have worked, so there is no point in comparing yourself to them. Focus on doing the best you can.
My next goal is to run a marathon for the charity Mind – this will take a lot of training as I struggle to run long distance, but it is something I want to do one day! Wish me luck!

Feeling inspired to Bring It to the gym?
Don't forget to share you snaps and videos on social by hashtagging #BringingIt and be in the chance to win some amazing prizes and be featured on our BringingIt gallery! If you'd like to share your story with us email: [email protected].