"Going through a transformation myself, I now help other people with theirs as a PT" - Damien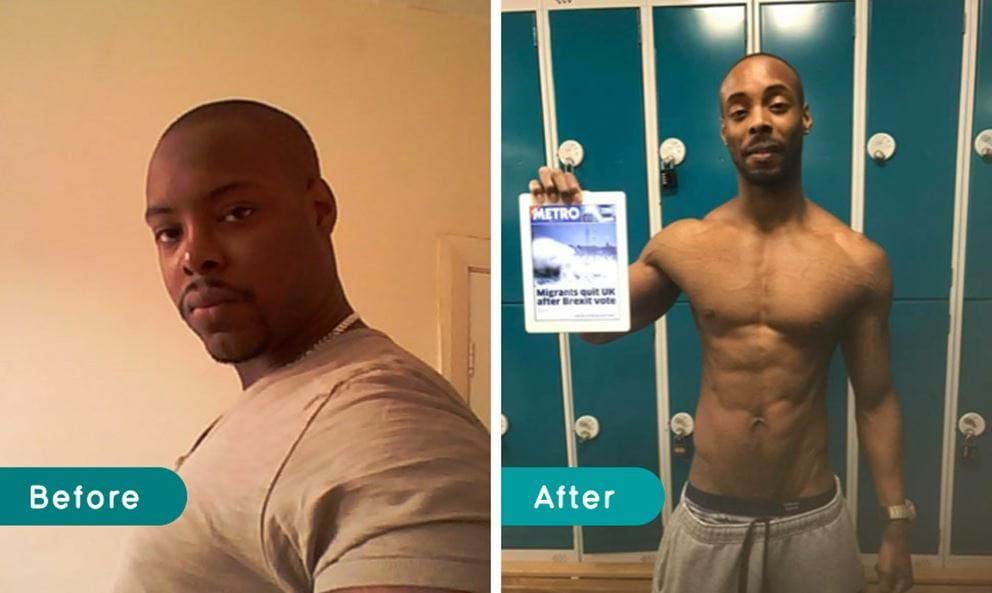 Hi. I'm Damien Gonzales. I'm a personal trainer at PureGym Leeds City Centre North. Before I become a personal trainer, I was a member at PureGym's Leeds City Centre South. I think I was one of the first members at this gym so I've been with PureGym for a long time!
While you may think that because I'm a personal trainer I've probably been healthy and fit all my life but this wasn't the case for me.
When I was young I was relatively skinny and felt I got away with just eating what I wanted so I didn't worry about my weight. I carried on with eating unhealthy foods such as takeaways quite regularly when I went to college, and didn't exercise much.
At that time, I thought I'm still young, I could get away with leading this lifestyle but then before I knew it, the weight crept up and I got to about 18 stone, which put me in the overweight category for my build.
At my heaviest, I remember having little energy. I would get out of breathe and experience tight chest pains when walking up stairs and doing simple everyday activities. I thought to myself, I'm only 23. I've got a long future ahead of me, and if I carry on living this way, my health can only get worse. That was when I decided to get into fitness and look after myself.
While I had joined other gyms before, I never really made use of them. I would sign up and go a couple of times, and then after a few weeks later, I never made my way back so I never saw progress.
This time, I was determined to actually make progress, and see positive changes in my health.
At first I didn't know where to start, so I read a lot about nutrition and training from sources such as Bodybuilding.com in my spare time. I then applied what I learnt and made small changes to both my training and diet that I could stick to. While it sounds like a simple thing to do, it wasn't quite that easy to start off with. I went through a lot of trials and errors to find what worked for me. I think one of the misconceptions people have when they start a diet or fitness plan is that you can find any plan, and if you stick to it, you will get the results but that's not necessarily the case. Everybody is different so in order to make sure you get results you want, it's important to tailor your programme to suit your needs and lifestyle, which is where a personal trainer can really help.
By making changes to my diet and exercise, I went from being 18 stone to 11 ½ stone in 8 months.
Getting to this weight has given me self-confidence. I am much happier and day-to-day activities are no longer a struggle.  After experiencing how much of a positive impact keeping active and eating better played on my health (both physically and mentally), I wanted to use the knowledge I'd built with others, and make a positive difference to peoples live, which is why I've  become a personal trainer.
One of my clients had never done a push up before, and now he can do lots – seeing my clients acquire new skills like this and improve their overall health from my help is really rewarding.
Having been both under and overweight, I know how this can affect your self-esteem and your day-to-day function. I learnt a lot through my own transformation and as a personal trainer, I can really empathise with and understand my clients who want to tone up and lose weight. I like to share them my story so they can believe that they too can become their fitter and happier self.
My top tips for someone trying to lose weight are:
Make subtle changes – If you try making a drastic change to your lifestyle right away, you may be able to stick with the changes for a few weeks to month but it will be hard to maintain them in the long run. Identify where you can make small changes, whether that's going to bed for half an hour earlier than you usually do to make sure you get enough sleep, and you will find these small changes can give long-lasting results.
Change your workout routine after 4 weeks or so – If you keep doing the same routine over and over, your body is going to adapt to it, so you need to make sure you are setting progressions to make your workouts more challenging as you get fitter and stronger.
Drink plenty of water – Making sure you stay hydrated is really important when it comes to your health, so I really advise my clients to drink enough water throughout the day. Research has shown that being hydrated can affect your performance in your workouts, which in turn, affects your results, so I always make sure I drink lots of water.
Avoid rapid weight loss - If you're goal is weight loss, general guidelines typically recommend losing no more than 2lbs per week. Personally, I stick with a lower number and would recommend to lose no more than 1/2 -1lb per week. Taking a more gradual approach will allow you to minimise the amount of muscle you lose, and be more sustainable so you can keep the weight off for good.  
In future, I would like to enter in a bodybuilding competition. I think it would be a great experience. I'm fascinated by the human body so it would be a good learning process to see just what changes I can do to my body, and use this to build my knowledge. I also want to show others how far I'm come in my fitness journey, having been overweight. I hope that I can inspire and help people who may be struggling to lose weight. If I can do it, you can too! If you have any questions you want to ask me, please get in touch. My email is: [email protected]
How will you be Bringing It in the gym?
Share your fitness journey and tag @puregymofficial on Instagram so we can follow you on your journey!