"I went from 20 stone to 12.5 stone and with the help of PureGym I found joy in exercising." - Stephen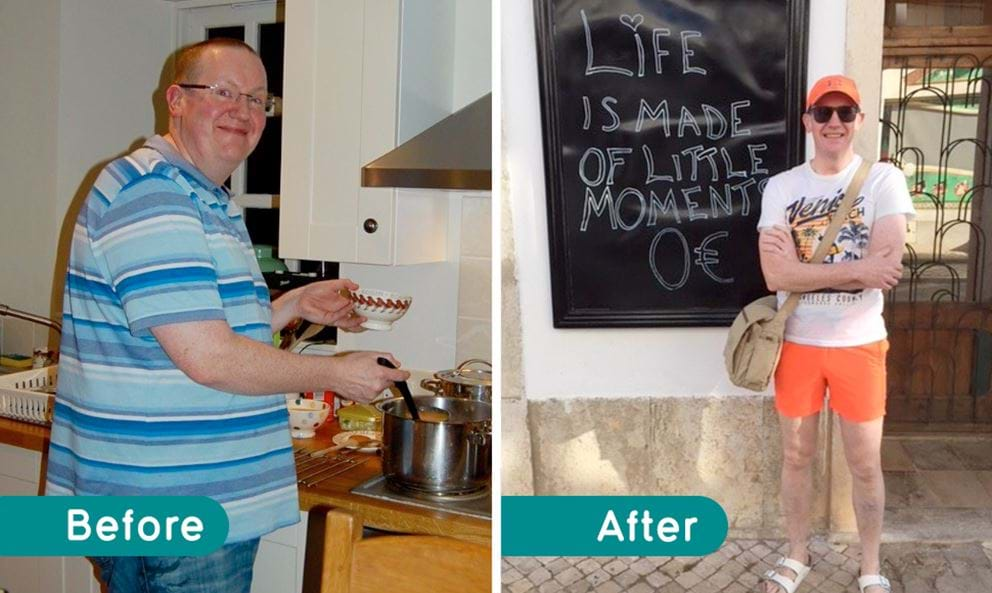 Before joining PureGym I was wearing XXXL shirts and felt ashamed of how I looked. Now I wear a small to medium size and have more energy and confidence in myself than ever.
My name is Stephen. I reside in a town called Paisley that is situated just outside Glasgow. I work in the city but love my hometown. It has everything I need - great surrounding countryside, shops, cinema, great cafes and restaurants and, of course, PureGym. I enjoy cinema, coffee with friends and keeping fit.
I am a fair weather cyclist and do not enjoy the winter at all so PureGym is perfect for my needs.

Before Stephen started exercising 
Up to the age of 44 (I turn 48 in a few days time), I was always a large man and obese actually. I work in hospitality and after struggling through a very busy festive period I decided that I had to change or suffer the consequences.
So in January 2014 I started my journey to a fitter and healthier me.
Before, I did no exercise apart from walking at work and my diet was shocking - big meals with huge portions and loads of junk food, cakes and sweets. When I joined my first gym I started with five minutes on the cross trainer, treadmill and bike and I was exhausted after only 15 mins. For the first 6 months of my new diet I completely cut out carbs and reduced my fat content, drank lots of water and ate lots of protein, veg, fruit and salads.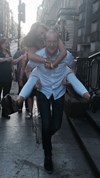 I saw my face, stomach, chest, arms and legs steadily grow thinner and by about June 2014 I had lost my target of 7.5 stone, going from a hefty 20 stone to 12.5.
My waist size was reduced from 44" to 32" and shirts from an XXXL to a small to medium. By working out and losing weight I now have more energy and feel comfortable swimming, going to the beach and even going on holiday whereas before I was ashamed of the way I looked and would never dream of going to a beach where I would have to show my body. I am now keen to take part in challenges for friends and colleagues to help raise funds for charities.
My three tips for someone trying to lose weight

Diet and exercise go hand in hand. One without the other will always lead to failure. 
Believe in yourself that it will make a better you and if tempted to stray look at yourself before you started. 
Drink lots of water and I found chewing gum helped curb the urge to eat when I wasn't hungry but still had the notion I was.
My advice for someone going to the gym for the first time
Don't be afraid. I was terrified and very self-conscious about how I looked but block out the surroundings and go do what you set out to. 
Learn from others. If you are unsure just look at those around you and learn from observing.
Ask for help. Don't be afraid to ask instructors or fellow members. The majority of people will be only too glad to help you. 
I went from a lazy couch potato to an avid gym goer who looks forward going to 4 cycle classes a week
I also love the rower and managed to get on the leaderboard in my first year of fitness at my first gym, by recording 7:34 for a 2k row. 
Raising funds for worthwhile charities has also been greatly rewarding. I did a 100km cycle with my friend Andrew. I was terrified of not keeping up! I also completed a marathon of 26 miles on the rower for prostate cancer with a work colleague. 
Christmas is always hard and I did overindulge over the festive period and probably gained weight but now I am back at the gym. I've done three cycle classes and two sessions of free weights and rowing since the 30th of December and am back to eating normal meals and the calorie intake I need to maintain a healthy body and living.

My advice for anyone struggling with their fitness goals

Set realistic weekly goals and form a positive mindset that you can accomplish them. 
Work out with friends. 
Start off slow and build up to what you find comfortable without totally exhausting yourself. 
I am not a runner so I found my niche in rowing and cycling that are lower impact on your joints, burn loads of calories, will tone you all over, and are great fun. Even walking is good - track your steps on an app or Fitbit and then you will want to do more. 
Believe me, once you get the bug and get over that fear of failing you will thrive.
As for upcoming fitness challenges and goals, I would love to try a Tough Mudder course or get better at swimming and possibly do a long charity swim.
How will you bring your incredible in 2018?
Read more inspiring stories from our members here.
Don't forget to share your fitness snaps of how you're #BringingIt around the gym with our hashtag and you'll be in with a chance to be featured on our Bringing It gallery and win incredible monthly prizes!