Going to the gym has helped me become the most confident I've ever been in myself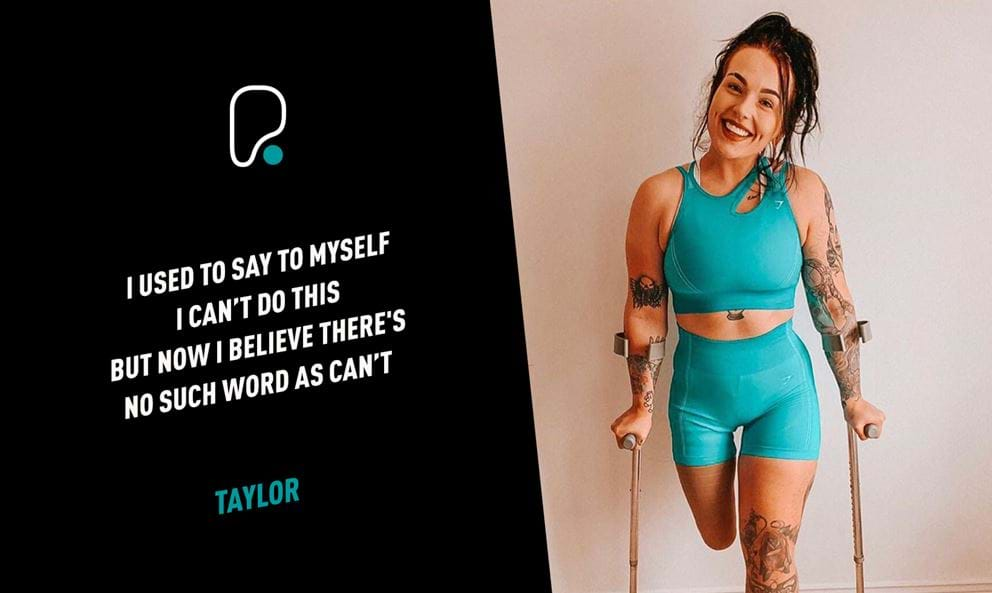 Taylor had to have her lower right leg amputated when she was just 11 years old, but that hasn't stopped her from falling in love with working out, and even becoming a Personal Trainer. Read her inspiring story below.
Hey! I'm Taylor Crisp (@taylor_offitness). I'm a full-time eyelash technician. Outside of work I love to travel, train and horse ride.

I was born with Femur-fibula-ulna syndrome (FFU syndrome) which is characterised by abnormalities of the femur, fibula, and ulna.  At the age of 11 I had a fall which required me getting surgery and amputating my lower right leg. I became self-conscious and unhappy, which really knocked my confidence. I started doubting myself in my own ability a lot.
How I got started

Between then and the age of 21, I put quite a lot of weight. I decided I wanted to action to regain my confidence. I started going to the gym twice a week when the gym was quiet. Making this into a routine that I could stick with was key.
A year down the line I hired my very first personal trainer to help me. (What PT worked on, taught you).
Two years later, I'm at a weight I'm comfortable with but that's not to say the journey has ended!
It's only opened my doors to challenge myself and continue making progress in what I do in the gym, and in my everyday life.
I love that no matter where I go in the UK, there is always a PureGym nearby which I can go and workout in.
My workout routines include a combination of cardio and weight training. I'm really enjoying exploring and trying different training methods. My aim over the next two years is it to become a PT myself and be one of the female amputees to compete without a false leg.
Believing in myself

I've now been training for 3 years to get where I am today.
It's been a gradual process but making a change has been the best decision I've ever made.
Going to the gym has helped shape me in so many ways. I'm a lot more positive. In the past, I would always talk down myself and say I can't do this. But now I believe there is no such word as can't. Instead of worrying about what you can't do, use that time into focusing on putting your efforts into doing something so you can do it! It always seems impossible until it's done!
This quote really resonates with me: "Sing the song that only you can sing, write the book that only you can write, build the product that only you can build… live the life that only you can live.
ADVICE TO MY YOUNGER SELF
If I could give my younger self advice it would be to never underestimate what you can achieve. Where you are now is not where you will be in a years' time.
Do not let those who judge you make you feel inferior.
What makes you different is what makes you special. Do it for yourself.