Train like Lara Croft - Tomb Raider inspired workout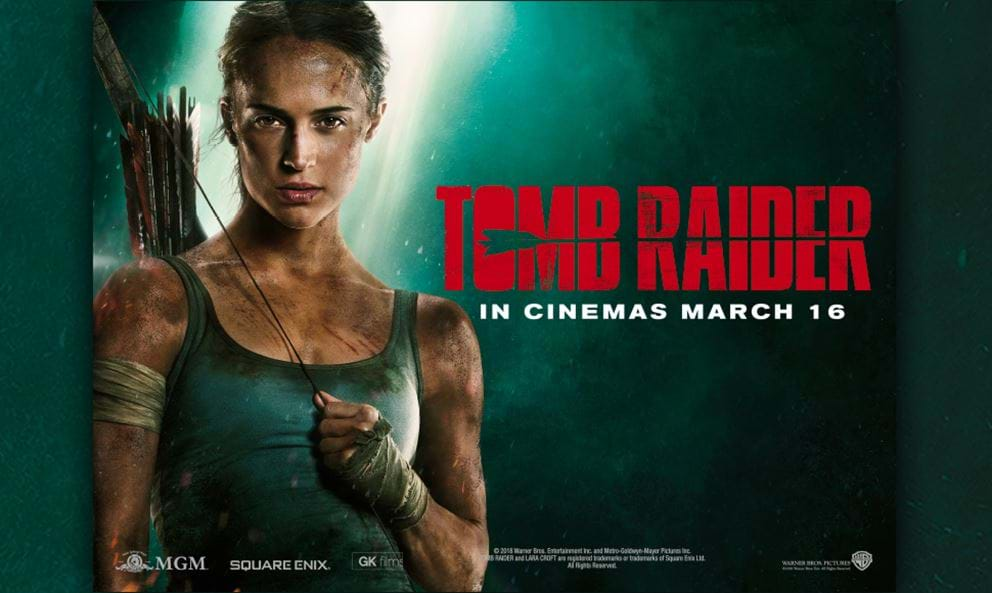 Want to take your fitness up a notch and train like Lara Croft? Then you need to try this Tomb Raider-inspired workout.
This intense, full body circuit will get your heart rate up, promote fat loss and help you burn more calories. Lasting just 30 minutes, this fantastic session will leave you ready to face the world. 
Be in the chance to win some amazing Tomb Raider prizes - click this link to find out how
Starting with a warm up
Spend 5 minutes doing some light cardio and dynamic stretches like leg swings and arms swings to get your body and mind prepared for this amazingly intense workout.
Let's get to the main workout
Set your timer on for 20 minutes. Perform each of the following exercises consecutively, then rest for 30 seconds to a minute. Repeat the complete circuit as many times in 20 minutes - try to aim between 4-7 rounds.
Burpees
How many: 10-15 reps (dependent on your fitness level)
Great for your: arms, quads, hamstrings, glutes, abs and chest.
How to do a burpee: Squat down, jump your feet back into the plank position, perform a push-up and jump your feet back towards your hands, then jump into the air with your arms pointing towards the ceiling.
Tip: Try to keep your your core tight throughout the whole movement.
Push-ups
How many: 10-15 reps
Great for your: deltoids, pecs, abs, obliques, and quads. 
How to do a push-up: Place your hands flat on the floor, shoulder width apart and stand on tiptoes in the plank position. Lower yourself until your chest touches the floor, then push up.
Tip: Try to keep a straight spine.
High knees
How many: 15-30 reps
Great for your: calves, quads, glutes, hip flexors.
How to do high knees: jog on the spot alternating from foot to foot and bring each knee up high towards your belly button.
Tip: Try to be quick and light on your toes.
Medicine ball slams
How many: 10-15 reps
Great for your: upper body, core and lower body. 
How to do a medicine ball slam: With your feet shoulder-width apart, pick up your medicine ball with your hands on the sides and lift towards your chest. Squat down. Straighten your legs and extend your arms overhead to lift the medicine ball towards the ceiling. Slam the medicine ball onto the floor using your arm strength.
Tip: Keep your core tight throughout the whole movement.
Jump squats
How many: 10-15 reps
Great for your: quads, core, calves, hamstrings and glutes. 
How to do a jump squat: With your feet shoulder-width apart, squat down so your thighs are parallel to the ground, then quickly jump as high as you can.  
Tip: To to keep your chest proud the whole time.
This is supposed to be a challenging workout so try to work as hard as you can. But if you get out of breath and need to stop at any point, don't worry - just take a break. Once you get your breath back, continue your workout.
Once you've completed the workout, don't forget to cool down with some static stretches targeting all body parts as you will have worked your full body in this circuit. 
Want to win a Tomb Raider-inspired prize?
To mark the release of the new Tomb Raider movie in cinemas March 16, we're giving you the CHANCE TO WIN a Tomb Raider prize in February and March.
In February, we're giving away two tickets to the Tomb Raider premiere* where you'll be among the first to see how the legend of Lara Croft begins in this highly-anticipated cinema release.
In March, there's a holiday to Croatia up for grabs, where you and a friend will get the chance to try some thrill-seeking activities such as rafting, canyoning and ziplining for FREE.
For your chance to win simply refer a friend to join PureGym throughout February and March.
Get your referral code from the Members' Area of our site or app 
Give it to friends and family 
If they join, you'll automatically enter the Tomb Raider giveaway. If you win, you'll be free to choose who you're taking to the premiere or to Croatia!
Don't forget to share your snaps if you complete this workout by hashtagging #BringingIt to be featured on our BringingIt gallery!
Lara Croft is the fiercely independent daughter of an eccentric adventurer who vanished when she was scarcely a teen.  Now a young woman of 21 without any real focus or purpose, Lara navigates the chaotic streets of trendy East London as a bike courier, barely making the rent, and takes college courses, rarely making it to class.  Determined to forge her own path, she refuses to take the reins of her father's global empire just as staunchly as she rejects the idea that he's truly gone.  Advised to face the facts and move forward after seven years without him, even Lara can't understand what drives her to finally solve the puzzle of his mysterious death.
* Terms and conditions: Each referral gives you one extra entry into the competition. The winners will be picked and will be announced on twitter.com/puregym. One winner will be selected for the holiday to Croatia, and a separate winner will be selected for the cinema tickets, both chosen at random. In the event of there being no premiere the winners will be offered a private screening with drinks on arrival. The prizes relate to referrals made during the period February 1st 2018 to March 31st 2018. There will be two winners nationwide.