"My 3 stone weight gain has made me more stronger, happier and confident" - Nokuthaba, nursing student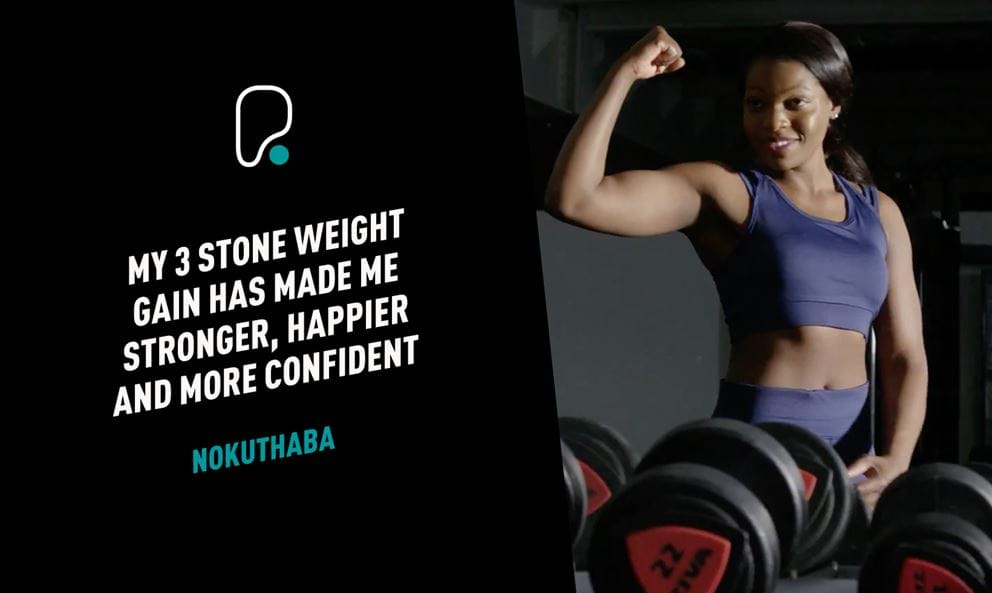 A year ago I weighed about 50kg (7 stones), and now I weigh 65kg (10 stones).
Whilst weight gain may not be everyone's goal, I am proud of this achievement and so much more confident with how my body looks now.
Most of the weight I have gained is muscle mass and not fat mass. I am much stronger now and this has given me a boost in confidence. I remember whenever I used to say I wanted to start going to the gym people would say you don't need to go to the gym because you already skinny. But it came a time when I stopped listening to what people thought and focused on what I wanted.
 Although juggling university, a part-time job  and gym can be quite a handful, I'm am really happy with the results I have achieved so far.

Here's my story...
My name is Nokuthaba Moyo. My friends call me Taba for short. I'm currently a studying a degree in Nursing at university and work part-time as a support worker when I'm not on placement. Balancing university with placement and part-time work can mean my days get quite busy but I always find a reason to go to the gym, even if it means going for a quick session.
I started going to the gym beginning of 2016 as a way to help relieve stress, especially after a long day on placement or at university. Being underweight, I also wanted to gain muscle mass for a more toned physique.
When I first started going to the gym, I went to fitness classes which are included in your membership at PureGym. 
Going to the classes was a perfect way for me to get started as I had no clue on what exercises to do and how to use the machines in the gym. 
Of all classes, my favourite class was Legs Bums and Tums!
I gradually moved onto doing bodyweight exercises on my own in the gym, and watched online videos to learn some exercises I could do in the gym.
Because I didn't want to embarrass myself just in case someone saw me performing exercises wrong, I would go to the gym late at night or very early in the morning when there were few people.
As I got more inspired by the fitness models I saw online, I decided I wanted to start weight training to improve my strength and build a more athletic physique.
I knew being able to perform exercises with correct technique is very important when it comes to lifting weights. To help avoid injury, I booked PT sessions for 5 weeks with a personal trainer to learn how to lift weights.
I now lift weights regularly and I am loving it! Ever since lifting weights, I have gained more confidence with the way I look, and I have learnt to love myself even more. My core strength has improved and I have gained more muscle on my glutes which has given me the curvy shape I had wanted, and I have to say - I am impressed with how strong my legs are now! I always try to push myself each time I'm in the gym, and that helps me stay focused in achieving my goals. The next goals I am working towards is to do unassisted pull ups.
Every time I go to the gym, I just forget about all my troubles and I always feel like I have made it in life - that's how powerful exercise is.
I find that my transformation motivates me all the time. I have learnt that sometimes you are your own motivator, don't wait for approval from other people to stay motivated. Seeing the changes in my body composition makes me want to work even harder and I hope to one day inspire others too.
Fitness is about being patient and consistency. Transformation does not happen overnight it takes time but trust me, it's worth it!
Keep putting in the hard work and you will eventually notice some changes, whether that's physical or mental. Think about all these benefits not just in present but also in future, and fitness will become a lifestyle that can lead to a healthier and positive ageing.
Here are a couple of things that helped me to get started: treat yourself to a nice gym outfit, make a playlist of those favourite songs, or find yourself a workout buddy. Don't look at what the next person is doing and how much they are lifting, you are there for you, and trust me sooner or later you will be asking yourself why you did not start this fitness journey sooner.

I know that balancing gym and university can be a bit of a juggle but I've found the following things have helped me to never miss a workout:
Plan ahead.

 

Check what time you start and finish University. If you start your lectures late, rather than having a lie-in go to the gym for a quick session instead. That way you don't have to worry about going later in the day and it can help to improve your mood and make a great start to the day. And when you're happy you feel like you can face any challenges throughout the day!
Give yourself time for breaks.

 

If you find yourself stuck in the library for hours on end working on assignments or studying for exams, don't forget to take breaks every now and then. While working on your academics can get quite stressful and take a lot of your time, exercise can help you relax and improve your quality of sleep. Go for a walk during your break, or even better, set yourself an hour to go to the gym and get a good workout in!
Set some goals and work hard at them. If you set some goals in place, this could help motivate you and give you a reason to go to the gym and get exercising. When you have something to focus on it could be much easier to do, and it can be really rewarding when you reach your goals. You may even find having the motivation to balancing gym and work will just come naturally once you get into the swing of things, and start to really enjoy working out!
What's next for me?
When I finish my nursing degree I want to apply for personal training course and help other people achieve their fitness goals. Lately I have been thinking about entering a bikini competition but I've not made my final decision yet. Other than that, I will continue setting achievable goals to get stronger and be an inspiration to myself and others!
#WhatsYourStory?
Got a story you'd like to share with us? Send us your Pure Gym story to: [email protected], and you could be in the chance to be featured on our blog.