Vegan Recipes To Try This National Vegan Day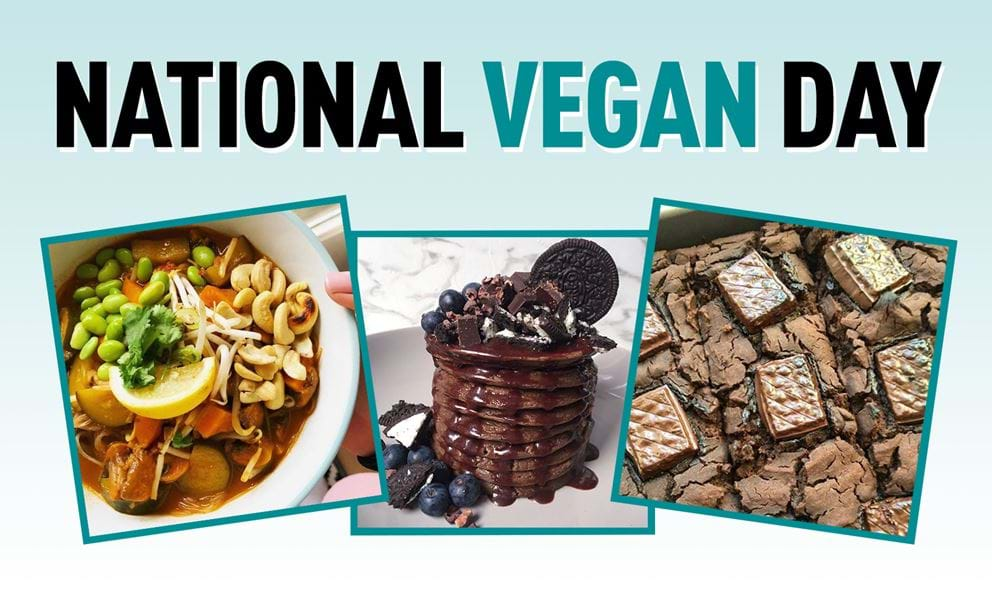 To celebrate National Vegan Day (1st November) here's 3 mouth-watering vegan recipes to try, which have been specially curated by our vegan friends! Not only are they quick and easy to make, these vegan options are just as tempting (and if not healthier!) as the originals.
Vegan black bean protein brownies

Ingredients 
Black beans 240g drained
Protein powder (my protein vegan blend chocolate smooth) 60g
PB fit 45g
Rapeseed oil 10g
Golden syrup 75g
Cocoa powder 25g
Dark choc chips 75g
Vanilla extract 1 tsp
Baking powder 1tbsp
Pinch sea salt
Dash of almond milk
Method
Place all ingredients in blender/food processor, apart from 25g of choc chips.
Preheat oven to 180 degrees 
Grease baking tray 
Pour blended mixture into greased baking tray
Add leftover choc chips to top of mixture and place in over to cook for 20 mins 
Allow to cool and cut into shapes
Chocolate vegan pancakes

Ingredients:
65g oats/spelt flour/plain flour
1/2 courgette
1 tbsp cacao powder
1 scoop chocolate vegan protein powder
1 tbsp chia seeds
200 ml almond milk
Squeeze of a lemon
½ tsp baking powder
Method:
Heat a non-stick pan on the hob
Blend in a blender all the ingredients together to form a pancake mixture
Lower the temperature of the hob
Place the pancake mixture in the pan to form the pancakes
Flip the pancakes
Build your pancake stack & top with all the toppings of your choice
Thai Red Curry Soup

Ingredients:
Handful Cilantro Stalks Chopped.




1 tbsp Lemongrass Paste.




6 Garlic Cloves.




1 inch Ginger.




Juice of 1 Lime.




1 Red Chilli.




Harissa Paste.

1 tbsp Hemp Oil.

1 Cup Cashew Nuts.

2 Courgettes Chopped.


2 Carrots into small bite-sized

pieces.

1 Cup Mushrooms Sliced.

3 tbsp Tomato Purée.

1 Can Coconut Milk.

1 tbsp Curry Powder.

3 tbsp Teriyaki Sauce.

2 tsp Coconut Sugar.

3 Small Packets of Rice Noodles.

1 Cup Bean Sprouts.

Cilantro Leaves.

2 Spring Onions

1 Cup Edamame Beans.


Salt & Pepper to taste.
Method:
Heat the Hemp Oil over medium-high heat and slightly brown off your Cashew Nuts. Remove and reserve.




Reduce heat to medium and add your pre-made Thai Curry Paste to the pan. Cook until you can smell the amazing flavours!

Add in the Courgette, Carrot, Mushroom and Tomato Purée to the Paste and stir well.




Pour in the Coconut Milk, 2 Cups of Water, the Curry Powder, Teriyaki and Coconut Sugar and bring to boil.




Add salt and pepper to taste.

Reduce heat and simmer until the Carrot is tender.




After about 10 mins in a separate bowl cover the rice noodles with boiling water, stir with fork and leave to soak for 5 mins/until soft. Then drain and dispense into your desired serving bowls.




Add half of your Bean Sprouts to the vegetable mixture just before serving. Then ladle the finished vegetable mixture over your noodles.




Top with the Cashew Nuts, the rest of the Bean Sprouts, Edamame Beans, some Cilantro Leaves.




Serve with a slice of Lime.
If you make any of these recipes, let us know how they turn out for you by posting your creations on Instagram and tagging @puregymofficial. We love hearing from you!