Grub Up on Bugs: Three Protein-Packed Dishes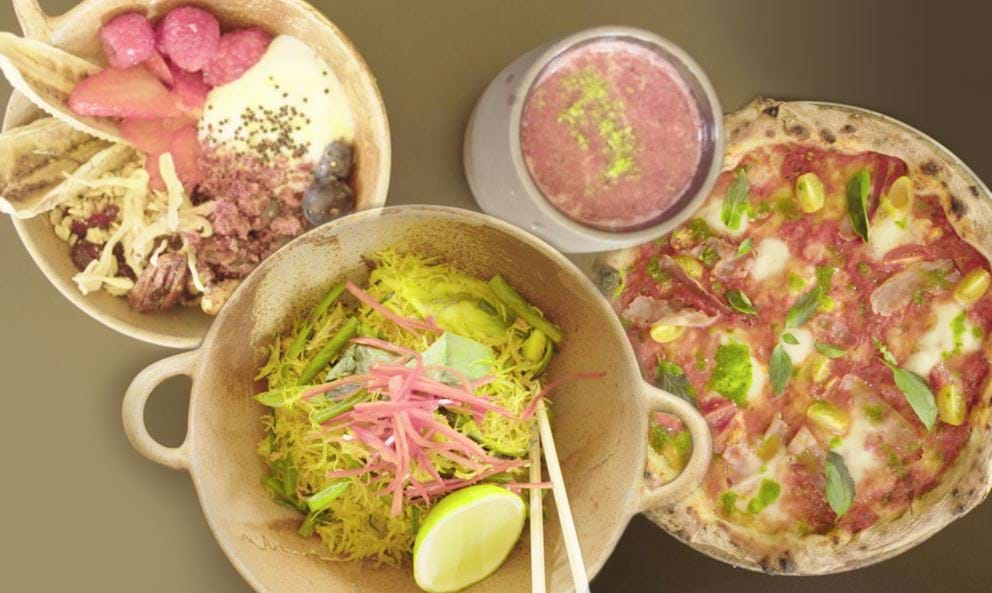 You might have seen the results of our survey that found out that 35% of us Brits are prepared to give edible bugs a taste. Is the talk of this making you feel a little bit hungry?
While 100g of tofu contains 15g of protein, you'll find 20.5g worth in the same measure of crickets. And to hit your 30g protein goal, you'd need to eat 150g of chicken, when just 127g of mealworms could do the job.
With you consuming smaller volumes of food for the same amount of protein, you'll receive smaller quantities of some of those less-desirable macronutrients, too.
We got in touch with Specialist Registered Dietitian Nichola Ludlam-Raine over at Nic's Nutrition, who used her expertise to work out the macronutrient contents of our recipes, pre and post-bugs.
Try out these three dishes for yourself, created specially by Eat Grub and Farang London, which are delicious whilst also packing plenty of protein – perfect for anyone looking to make gains. Start your day with a healthy cricket flour protein shake, treat yourself to creamy buffalo worm noodles, and indulge in our irresistible cricket flour dough pizza.
Dish 1: Cricket flour protein shake


Did you know that, gram for gram, crickets have more protein than steak? That's why they make for a great addition to any protein shake. And you might just be surprised by how good they taste. Here's what crickets will do for the nutritional credentials of this shake recipe:
Serves: 2
3 bananas, peeled
200g strawberries
30ml milk
30g cricket flour
1 scoop vanilla ice cream (optional)
Combine the ingredients in a blender and blend until smooth. For a treat, add the vanilla ice cream and blend some more.
Decant into your shaker and enjoy.
Dish 2: Creamy buffalo worm, mealworm and coconut noodles
You may be surprised to know that worms and coconut make for a superb paring. The nutty flavour of buffalo and mealworms is a natural partner to the smooth coconut, and a touch of chili really gives it a kick. The best bit of all? The inclusion of the critters increases the dish's protein content by 60%.


Serves: 3
400g vermicelli noodles
20g mealworms, blanched
20g buffalo worms, freeze-dried
30g red turmeric, peeled
30g garlic, chopped
40g ginger, peeled
10g red birds eye chill
2 tbsp rapeseed oil
200ml chicken stock
200ml coconut cream
4 tsp soy sauce
2 tsp fish sauce
1 tbsp caster sugar
20g coriander, chopped
20g spring onion, chopped
60g shallots, chopped
60g chives, chopped
1 lime
Begin by preparing the vermicelli noodles. Soak the block in cold water for around half an hour. When the begin to break apart, drain using a colander and set aside.
Next, crush the mealworms, turmeric, garlic, chilli and ginger together into a coarse paste. This can be done using either a blender or a pestle & mortar.
Once on a high-heat, add the oil to the wok. Add the paste mixture and fry it, stirring it constantly so as to avoid it burning to the pan. Once the paste has darkened, add the buffalo worms, chicken stock, coconut cream, soy sauce, fish sauce and sugar. After a few minutes, lower the heat and add the noodles. Cook for 4 minutes, or until the noodles absorb the sauce and soften.
Mix in the coriander, spring onions and shallots. Serve with the chopped chives and lime as a garnish. Add a squeeze of the lime juice before you tuck in.
Dish 3: Cricket flour dough, roast tomato and pancetta pizza
More than simply packed with protein, cricket flour is delightfully versatile. Quick and easy to make, swapping in this insect-based alternative massively boosts the protein content of this guilty favourite:


Serves: 3
250g plain flour
135g cricket flour
1 tsp salt
1 tbsp caster sugar
1 tsp chopped rosemary leaves
7g active dry yeast
2 tbsp olive oil
225ml warm water
For the topping:
400g chopped tomatoes, tinned
2 cloves garlic, chopped
3 tbsp tomato puree
6 slices pancetta, chopped
200g mozzarella, shredded
8 vine cherry tomatoes
Handful rocket
Salt and pepper, to taste
Begin by making the dough. Combine the two different types of flour, salt, sugar, rosemary and yeast in a bowl. Then add the oil followed by the warm water. Knead the dough together by hand until all the ingredients are well combined. It should be non-sticky, but soft to the touch.
Place the dough in a bowl and wrap it in clingfilm, before leaving in it a warm place for half an hour.
Preheat the oven to 190c/375f/gas mark 5. Take your dough and spread it out on a lightly floured surface. Use a rolling pin to gently push it out into a large, circular shape about 5mm thick. Then place it onto a large tray.
For the topping, use a food processor to combine the tinned tomatoes, garlic, salt, pepper and tomato puree – until smooth. Then spread this evenly over the pizza dough. Scatter the pancetta, mozzarella and cherry tomatoes on top.
Bake in the oven for around 20 minutes, or until golden brown in colour. Serve with a garnish of rocket and eat hot.
Don't forget you can re-watch the video experiment with our three brave gym managers and learn more about the benefits of eating bugs right here.
So, what are you waiting for? Make sure you send us the best snaps of your bug-filled dishes with us on our Facebook, Twitter, and Instagram pages.